 Bay St. Healer: Dr. Gordon Warme
Release Date

2022

Running Time

62 minutes

Closed Captions

Yes

Availability

Canada, USA
Regular price

Sale price

$300.00

Unit price

per
License Definitions

Institutions: Purchase at this price level if you are from a university, college, school board, school district, government agency, business or association. Note: Price does not include inter-library loan rights.

Community: Purchase at this price level if you are from a single K-12 School, registered not-for-profit, community organization, public library.  Note: Price does not include right to circulate DVD/program to other schools within district.
DSL Terms

DSL stands for Digital Site License and permits the buyer of the license to host the film on a password-protected, closed server for the term of the license for educational use. If your institution does not have a server or you are looking into a license for curated one-time events or fixed term exhibitions, please contact us.

See below for more information about DSL terms of use. Upon order placement, our staff will contact you within 3 business days to arrange digital file delivery. 
Share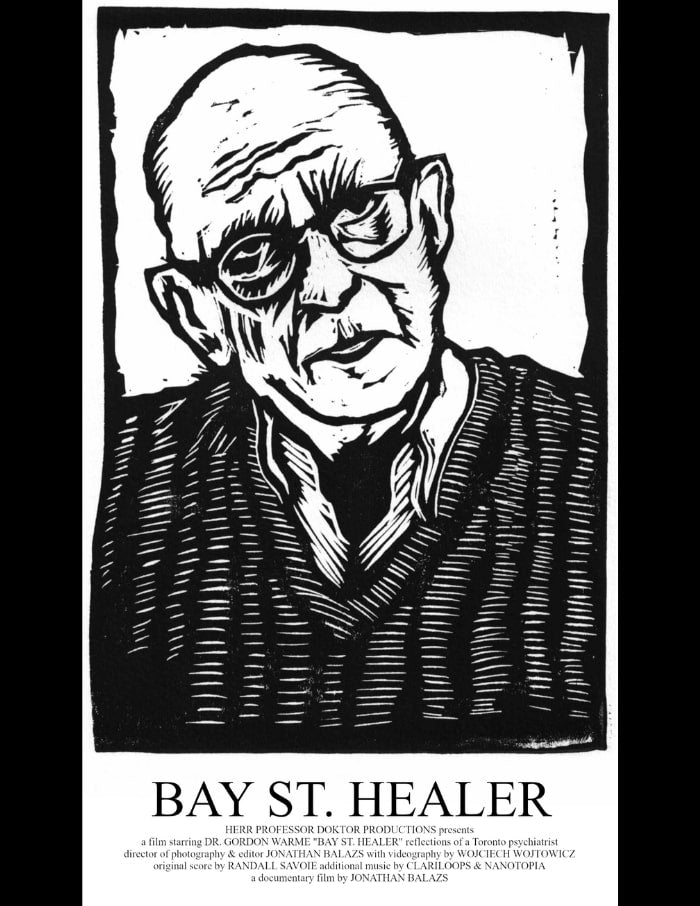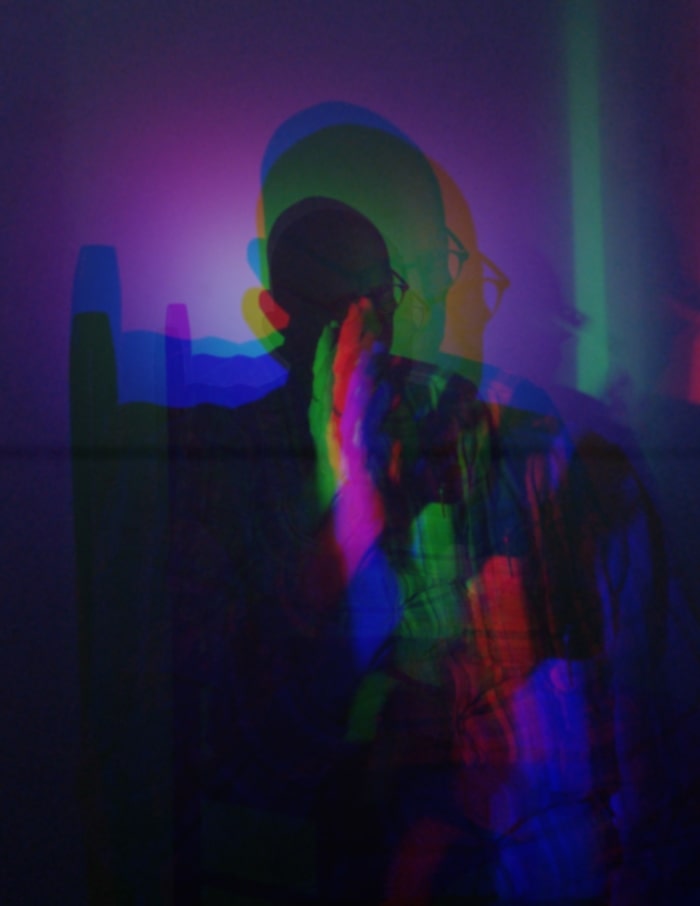 "It's stupid to pathologize life," says Toronto psychiatrist Dr. Gordon Warme (1932-2023). Over the decades listening to patient problems, he is unsure that their issues are caused by their faulty brains.
Bay St. Healer is the newest film by director-producer Jonathan Balazs examining the life and work of Dr. Warme. Against the backdrop of Bay Street, Toronto's financial center, the title playfully hints at those who may have sought Dr. Warme's assistance. During the last stage of his life and while filming the documentary, Dr. Warme resided on this street. From his vantage point overlooking the city, he contemplates his complicated and at times controversial career.
Supported with quotes from his writings as a guide, Balazs crafts a hypnotizing narrative through revealing interviews, expressive animations and a contemplative bevy of archival media. With unconventional insights, Dr. Warme reveals himself to be a participant in a vital cultural ritual, "one of countless rituals that give relief to humans...the most culture-bound of creatures."
Whether brushing shoulders with 1950s Hollywood royalty at the Banff Springs Hotel; serving as a key investigator in a Canadian tragedy or insisting that he doesn't rely on cliches or give advice, Dr. Warme's incisive musings are a compliment to Balazs' ruminative style. With 50 years of psychiatric practice behind him, the late Dr. Warme was undeniably a cultural artifact, someone whose insights are worth preserving.
Director and Producer: Jonathan Balazs
Artist's Statement
I first discovered Dr. Warme's books through instructor David Reville who taught a course called History of Madness offered by the School of Disability Studies at what is now Toronto Metropolitan University. I borrowed a couple of Dr. Warme's books from the Toronto Public Library and was simultaneously captivated and horrified by the views expressed in his writing, especially that as a doctor, he decried the medical evidence for any biological mechanism behind mental illnesses. While still trying to wrap my head around these ideas, I graduated from university and expanded my short film "Mars Project" where Dr. Warme was featured. After a particularly tense Grand Rounds presentation of this film for doctors in western Canada, I was struck by how dismissive they were of him; a psychiatrist even asked why the mental health institution in Toronto where he worked even kept him around. This was a defining moment that inspired me to create "Bay St. Healer". The way I understood it: Dr. Warme started out as an obedient and conscientious doctor whom, over the decades, became increasingly unconvinced of psychiatric expertise. Over the subsequent years, I would correspond with the doctor seeking his insight for new work and building up my courage to approach him about making a documentary featuring his professional life. Although the production was nearly thwarted by lock-downs and some health concerns, these difficulties ultimately made the film an iconic product of its time.
If your institution does not have a server or you are looking into a license for curated one-time events or fixed term exhibitions, please contact us.
Digital Site License (DSL) to Use Copyrighted Material - Terms of Use
The following terms are understood, accepted and effective upon payment of License Fee to Moving Images Distribution, the Licensor, and the buyer, the Licensee, named on the invoice.  Copyrighted material, as identified on the invoice, hereinafter referred to as the Program.
License: The Licensor hereby grants to the Licensee, for the DSL term listed on the invoice, the educational rights for digital streaming of the Program for use within the Licensee's internal closed system, password-protected platform. Licensee acknowledges it shall not sublicense, sublease, rent, resell, duplicate, digitize or transfer to any other medium or format.  Licensee shall not edit, cut or alter the Program nor post it on publicly-accessible websites or networks.  This license (i) will not be included in any courses that could be sold to other institutions for future distance-education use; (ii) is non-transferable; and (iii) is not assignable by the Licensee.
Users: The Licensee agrees that the users for this license shall be restricted to the Licensee's accredited faculty, staff and students.
Expiration of Term: Upon expiration of the license term, the Licensee shall cease streaming of the Program and the Program must be deleted from the Licensee's digital servers.
Acknowledgement of Limitations: The Licensee acknowledges the Program is copyrighted and the Licensor has a copyright interest in the Program which is legally protected against the Licensee's use, copying or exhibition except as is set out above.
DVD w/PPR.  PPR stands for Public Performance Rights.  A DVD with PPR license permits the buyer to use the film in non-theatrical venues for educational purposes, community screenings and other non-commercial purposes.  Standard educational DVD w/PPR purchases are in perpetuity for use by the institution, college, school, library, its staff and students. 
All DVDs sales are final. We guarantee that all DVDs will be free from defects at the time of delivery.  Defective DVDs will be replaced without charge within 30 days of date of shipment. 
The creators of all works distributed by Moving Images Distribution hold copyright for their work. Copyrights are a form of intellectual property that gives the owner of the original work exclusive rights to that work, including its publication, distribution, adaptation and use. All purchasers are to specify use required precisely at time of ordering and agree to comply with all copyright, trademark and intellectual property law. No materials purchased may be used outside the rights acquired at time of purchase or may be reproduced in whole or in part by any method now known or hereafter devised. No materials purchased without specific broadcast license and agreement may be broadcast, retransmitted or exhibited in whole or in part without a specific license agreement from Moving Images Distribution for such use.