The Hollow Tree
Director
Daniel J. Pierce
Producer
Daniel J. Pierce
Release Date

2011

Running Time

55 minutes

Closed Captions

No

Availability

Canada, USA
Regular price

Sale price

$200.00

Unit price

per
License Definitions

Institutions: Purchase at this price level if you are from a university, college, school board, school district, government agency, business or association. Note: Price does not include inter-library loan rights.

Community: Purchase at this price level if you are from a single K-12 School, registered not-for-profit, community organization, public library.  Note: Price does not include right to circulate DVD/program to other schools within district.
DSL Terms

DSL stands for Digital Site License and permits the buyer of the license to host the film on a password-protected, closed server for the term of the license for educational use. If your institution does not have a server or you are looking into a license for curated one-time events or fixed term exhibitions, please contact us.

See below for more information about DSL terms of use. Upon order placement, our staff will contact you within 3 business days to arrange digital file delivery. 
Share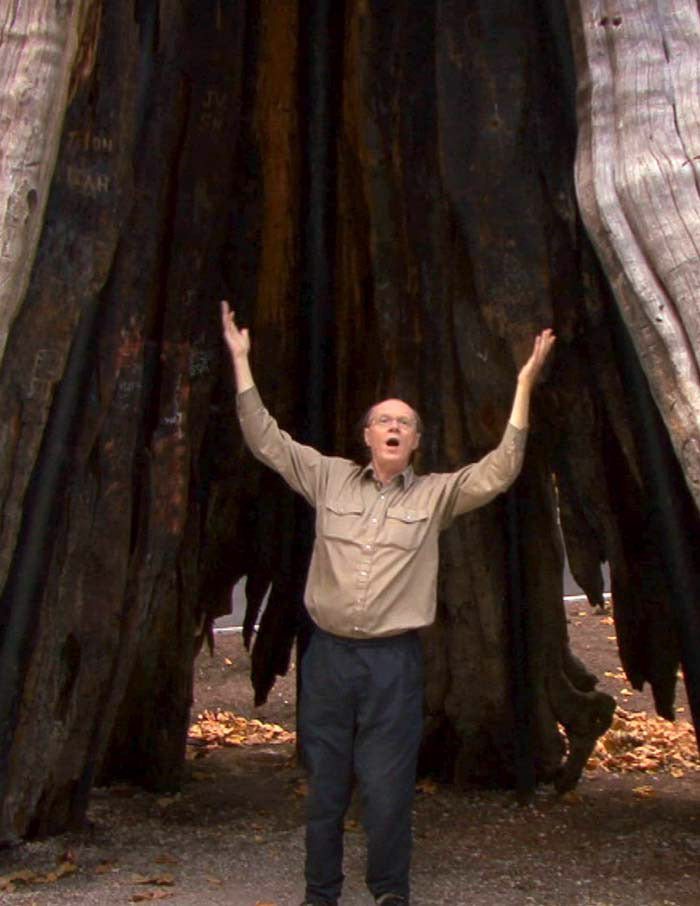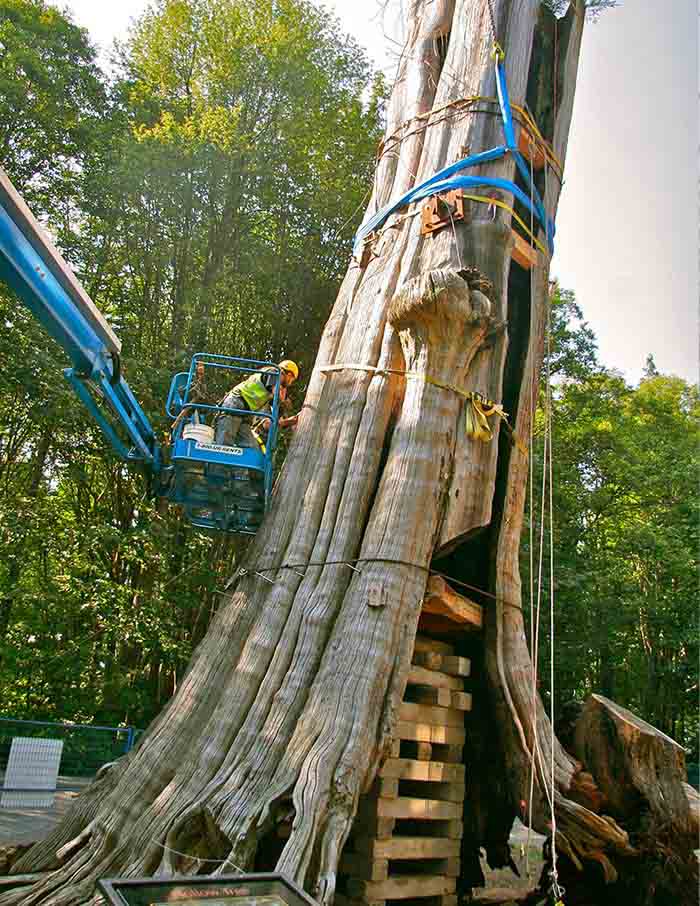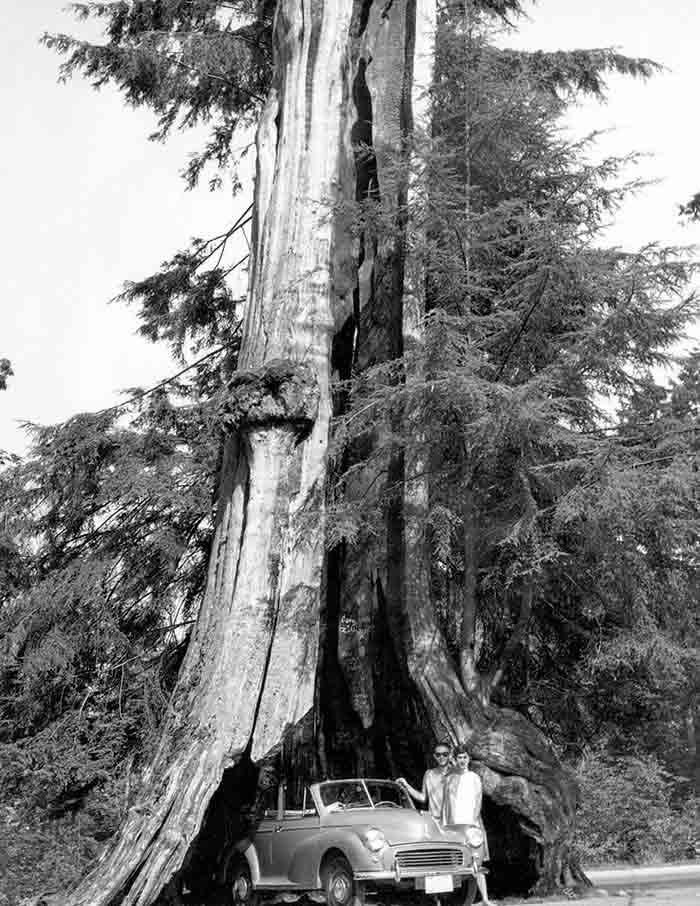 Documentary follows the bizarre saga of eccentric and passionate citizens who stand against gravity, decay and bureaucracy in order to save a thousand-year-old cedar tree from annihilation.
The Hollow Tree is an ancient Western Red Cedar that has become an icon in the city of Vancouver. Immortalized by a century of photographs, people from far and wide—from British pioneers to Chinese tourists—have journeyed to Vancouver to pose in front of its gnarled roots and stand within its gaping interior.

After a massive windstorm in Stanley Park, the Hollow Tree is left with an ominous lean. Public debate erupts around what the fate of the tree should be. The Parks Board deems the tree a safety hazard and votes to knock it down. However, a group of citizens—an engineer, a physicist, a historian and an arborist—come forward with a solution that will right the tree back to vertical and anchor it to the ground for centuries to come. Bowing to public pressure, the Parks Board allows the group to proceed, under the condition that no public dollars be spent on the project.

With extremely limited resources, these four pioneers must rely on primitive tools, ingenuity, brute force, and a lot of community spirit to get the job done in time for the 2010 Olympic games. As the story unfolds, a much deeper history emerges—this is not the first time that human beings have intervened to keep this tree up. But will their efforts be enough to keep the Hollow Tree standing once and for all, or will all their dreams come crashing down?

Award(s): Best Documentary, Yosemite Film Festival

Festival(s): DOXA Documentary Film Festival, Yosemite Film Festival

Artist's Statement:
I was not born in Vancouver. I came to the city when I was 18 and it was not until I began shooting this film that I first laid eyes on the Hollow Tree. It was a rainy day in 2008, the old cedar was leaning on its timber struts, held together with bolts and cables, and surrounded by a big blue fence. I thought to myself, "Is this really worth the trouble?" But as I entered into the hollow, I felt something that countless others had felt before me—a shared experience—and I began to think, there is more to this tree than just wood and steel.
As those first days of filming progressed I attempted to remain objective. But as days turned to months, I secretly began rooting for these people that had given so much to this enormous effort, for their love, for their passion, and for their rebellion. But even more, I began to root for the tree itself.
It would have been so easy to just stand back and let this tree fall. As arbourist Julian Dunster put it, "It's easy to cut a tree down, it's a lot harder to keep one up." If it had fallen, there would have been a moment of silence and then the Hollow Tree would have faded into the limbo of forgotten things.
I believe in parallel universes and multiple dimensions. And I believe that in just about every other version of reality—probabilistically—the Hollow Tree is allowed to fall. But we are fortunate enough to exist in the tiny sliver of reality where the tree remains proudly erect, and for that I am grateful and mystified.
For all those people who have never been to see the Hollow Tree, I hope they will take this story as a metaphor. We all have a Hollow Tree in our lives—some ragged, broken-down liability that would be easier to throw away—but with a bit of love and elbow grease we could make it work for us again.
While creating this film I went through a transformation within myself—from a position of pure utility, to one of objectivity, to one of celebration. With this film I have attempted to carry the audience along with me on that very same journey. We all have a responsibility to tend our own little corner of the garden. That is exactly what these people have done here in Vancouver, British Columbia. And that calls for a celebration.
If your institution does not have a server or you are looking into a license for curated one-time events or fixed term exhibitions, please contact us.
Digital Site License (DSL) to Use Copyrighted Material - Terms of Use
The following terms are understood, accepted and effective upon payment of License Fee to Moving Images Distribution, the Licensor, and the buyer, the Licensee, named on the invoice.  Copyrighted material, as identified on the invoice, hereinafter referred to as the Program.
License: The Licensor hereby grants to the Licensee, for the DSL term listed on the invoice, the educational rights for digital streaming of the Program for use within the Licensee's internal closed system, password-protected platform. Licensee acknowledges it shall not sublicense, sublease, rent, resell, duplicate, digitize or transfer to any other medium or format.  Licensee shall not edit, cut or alter the Program nor post it on publicly-accessible websites or networks.  This license (i) will not be included in any courses that could be sold to other institutions for future distance-education use; (ii) is non-transferable; and (iii) is not assignable by the Licensee.
Users: The Licensee agrees that the users for this license shall be restricted to the Licensee's accredited faculty, staff and students.
Expiration of Term: Upon expiration of the license term, the Licensee shall cease streaming of the Program and the Program must be deleted from the Licensee's digital servers.
Acknowledgement of Limitations: The Licensee acknowledges the Program is copyrighted and the Licensor has a copyright interest in the Program which is legally protected against the Licensee's use, copying or exhibition except as is set out above.
DVD w/PPR.  PPR stands for Public Performance Rights.  A DVD with PPR license permits the buyer to use the film in non-theatrical venues for educational purposes, community screenings and other non-commercial purposes.  Standard educational DVD w/PPR purchases are in perpetuity for use by the institution, college, school, library, its staff and students. 
All DVDs sales are final. We guarantee that all DVDs will be free from defects at the time of delivery.  Defective DVDs will be replaced without charge within 30 days of date of shipment. 
The creators of all works distributed by Moving Images Distribution hold copyright for their work. Copyrights are a form of intellectual property that gives the owner of the original work exclusive rights to that work, including its publication, distribution, adaptation and use. All purchasers are to specify use required precisely at time of ordering and agree to comply with all copyright, trademark and intellectual property law. No materials purchased may be used outside the rights acquired at time of purchase or may be reproduced in whole or in part by any method now known or hereafter devised. No materials purchased without specific broadcast license and agreement may be broadcast, retransmitted or exhibited in whole or in part without a specific license agreement from Moving Images Distribution for such use.