 Lichen
Producer
Janine Marchessault
Release Date

2019

Running Time

11 minutes

Closed Captions

Yes

Availability

Canada, US
Regular price

Sale price

$250.00

Unit price

per
License Definitions

Institutions: Purchase at this price level if you are from a university, college, school board, school district, government agency, business or association. Note: Price does not include inter-library loan rights.

Community: Purchase at this price level if you are from a single K-12 School, registered not-for-profit, community organization, public library.  Note: Price does not include right to circulate DVD/program to other schools within district.
DSL Terms

DSL stands for Digital Site License and permits the buyer of the license to host the film on a password-protected, closed server for the term of the license for educational use. If your institution does not have a server or you are looking into a license for curated one-time events or fixed term exhibitions, please contact us.

See below for more information about DSL terms of use. Upon order placement, our staff will contact you within 3 business days to arrange digital file delivery. 
Share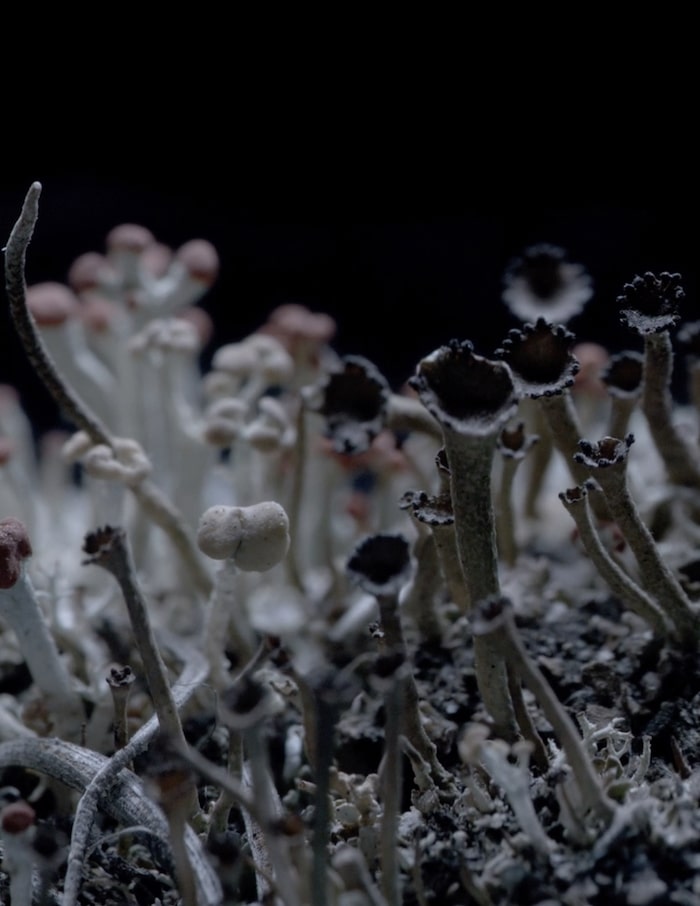 This stunning otherworldly short film takes a deep dive into lichen, a species that confounds scientists to this day. Shot in macro 3D, Lichen offers us a look at this remarkable life form and asks what we might learn from it. Ancient and diverse, both an individual and a community, lichens can live in the most extreme environments, including outer space. This meditative film bridges science and philosophy, and the words of lichenologist Trevor Goward illuminate the terrain in poetic and thought-provoking ways.
"Seemingly in response to the questions of scale that surrounded and informed the project, Jackson's remarkable ​Lichen​ consisted of close-up footage of the composite organisms, accompanied at first by the fluttery compositions of Japanese ambient composer Hiroshi Yoshimura before being supplemented by the voice of self-taught lichen specialist Trevor Goward. Shot in a darkened studio where the specimens were accented by impressionistic movements that produced the effect of passing planets, the tiniest objects of inquiry here became the most cosmic and otherworldly." - ​Canadian Art Magazine
Lichen was inspired by a feature article in ​Scientific American by Erica Gies, "The Meaning of Lichen: How a self-taught naturalist unearthed hidden symbioses in the wilds of British Columbia —and helped to overturn 150 years of accepted scientific wisdom."
"Diving deep into lichens, Lisa Jackson's film invites us to focus close attention on these symbiotic beings. Seeing lichens anew yields illumination onto our wider world: that systems are the primary agent of biology, that organisms, systems, and Earth itself have agency." -Erica Gies, Independent writer, National Geographic Explorer
Director: Lisa Jackson
Producer: Janine Marchessault
Home use and one-time screening for educational use available at watch.movingimages.ca.
Curator Statement
Reuniting cinematographer Bob Aschmann and award-winning Anishinaabe filmmaker Lisa Jackson for their fifth project (Savage (2009), Intemperance (2014), 1491: The Untold Story of the Americas Before Columbus (2017), Transmissions (2019)), ​Lichen​ reveals worlds within worlds that exist beyond the human senses on our planet. Though if you learn how to observe them, you will find lichens everywhere – they come in different shapes and sizes, and grow on surfaces (natural and constructed) all across the planet. Using powerful 3D macro lenses to photograph their "emergence," Jackson's film takes us on a meditative journey into a plethora of surreal planetary ecologies. Unlike early anthropocentric views of miniature domains, Lichen features many strange and exquisite species, each one the result of unique pairings between fungus and algae (or cyanobacterium). Lichen are never single organisms but are generated by interactions, networks, relationships with places in deep time. Jackson interviews renowned lichenologist Trevor Goward to understand the philosophical implications of these complex organisms that predate human existence. At times sounding like French philosopher Gilles Deleuze, Goward explains what we may learn from these beings which are always in a state of "becoming." ​Lichen​ reflects upon their mysterious and silent symbioses as a process of cooperating multiplicities that stand in contrast to the turbulent geopolitics of the 21st century. This characteristic may be the key to their longevity. This film is part of a commissioned IMAX program called "Outer Worlds" supported by the Canada Council for the Arts, New Chapter Program 2019. -Janine Marchessault
Awards and Film Festivals
Sundance Film Festival / DOXA Film Festival / San Francisco Film Festival / Images Film Festival / InScience Film Festival / Imagine Science Film Festival, Aeon Award Special Mention / Planet in Focus / imagineNATIVE / RIDM / New Nature Shorts (installation) – Berlin & Montreal, Goethe-Institut & Museum of the Moving Image / Academia Film Olomouc, Honourable Mention
If your institution does not have a server or you are looking into a license for curated one-time events or fixed term exhibitions, please contact us.
Digital Site License (DSL) to Use Copyrighted Material - Terms of Use
The following terms are understood, accepted and effective upon payment of License Fee to Moving Images Distribution, the Licensor, and the buyer, the Licensee, named on the invoice.  Copyrighted material, as identified on the invoice, hereinafter referred to as the Program.
License: The Licensor hereby grants to the Licensee, for the DSL term listed on the invoice, the educational rights for digital streaming of the Program for use within the Licensee's internal closed system, password-protected platform. Licensee acknowledges it shall not sublicense, sublease, rent, resell, duplicate, digitize or transfer to any other medium or format.  Licensee shall not edit, cut or alter the Program nor post it on publicly-accessible websites or networks.  This license (i) will not be included in any courses that could be sold to other institutions for future distance-education use; (ii) is non-transferable; and (iii) is not assignable by the Licensee.
Users: The Licensee agrees that the users for this license shall be restricted to the Licensee's accredited faculty, staff and students.
Expiration of Term: Upon expiration of the license term, the Licensee shall cease streaming of the Program and the Program must be deleted from the Licensee's digital servers.
Acknowledgement of Limitations: The Licensee acknowledges the Program is copyrighted and the Licensor has a copyright interest in the Program which is legally protected against the Licensee's use, copying or exhibition except as is set out above.
DVD w/PPR.  PPR stands for Public Performance Rights.  A DVD with PPR license permits the buyer to use the film in non-theatrical venues for educational purposes, community screenings and other non-commercial purposes.  Standard educational DVD w/PPR purchases are in perpetuity for use by the institution, college, school, library, its staff and students. 
All DVDs sales are final. We guarantee that all DVDs will be free from defects at the time of delivery.  Defective DVDs will be replaced without charge within 30 days of date of shipment. 
The creators of all works distributed by Moving Images Distribution hold copyright for their work. Copyrights are a form of intellectual property that gives the owner of the original work exclusive rights to that work, including its publication, distribution, adaptation and use. All purchasers are to specify use required precisely at time of ordering and agree to comply with all copyright, trademark and intellectual property law. No materials purchased may be used outside the rights acquired at time of purchase or may be reproduced in whole or in part by any method now known or hereafter devised. No materials purchased without specific broadcast license and agreement may be broadcast, retransmitted or exhibited in whole or in part without a specific license agreement from Moving Images Distribution for such use.